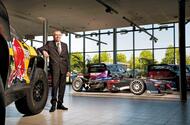 The Frenchman talks a bold game about the fourth largest car firm and has the credentials from his time at PSA to back it up
Stellantis, the newly minted (and strangely named) firm created by the merger of the PSA Group and Fiat Chrysler, is a bit of a beast.
With the merger now formally completed, thanks to the filing of more than 12,500 pages of official documents, Stellantis becomes the world's fourth largest car firm – but arguably the most disparate. It includes 14 brands, sells car in more than 180 countries, has operations in more than 30 counties and employs more than 400,000 staff.
And those 14 brands represent a more disparate portfolio than those of other car giants such as Toyota, the Volkswagen Group, Daimler and Ford. There are brands with roots in France (Citroën, DS, Peugeot), Italy (Abarth, Alfa Romeo, Fiat, Lancia, Maserati), the UK and Germany (Vauxhall-Opel) and the US (Chrysler, Dodge, Jeep, Ram). Those brands range from mass-market manufacturers to off-road experts, to premium firms to an American pick-up specialist. The group's Ram truck-led US division is its major profit pool, but much of its base is in the European mass market.
Basically, Stellantis has scale, but as yet little in the way of a common thread, and it's going to be a major challenge to get those disparate, diverse elements working in a unified fashion. That task will be led by CEO Carlos Tavares, who as head of the PSA Group reinvigorated both Peugeot and Citroën and led the purchase of Vauxhall-Opel before rapidly turning that long-struggling firm into a profitable operation.
Leading Stellantis will be a challenge on a new level, but past experience suggests it's one Tavares is fully capable of meeting – and that was evident from his performance in his first post-merger press conference. For nearly two hours, Tavares fielded a series of difficult questions like a pro and presented a clear vision of how Stellantis can succeed – while wielding both carrot and stick.
Tavares insisted that the vast scale of Stellantis could be an asset and that the diversity of the firm and its brands wasn't a problem but an asset, claiming: "We don't need to have one culture. We will leverage the diversity of our people". Tavares said he sees his role as being "to leverage this diversity to offer exciting opportunities for customers".
Yet, while celebrating diversity, Tavares also highlighted the opportunities the synergies the merger would enable. The aim is to achieve €5 billion (£4.4bn) of cost savings in the next five years and a big chunk of that will come from shared development and engineering. Tavares hinted the use of shared platforms – as PSA has successfully done – will "make the business plan fly" and enable brands such as Fiat to expand ranges in a way they couldn't justify previously.
Tavares pushed Stellantis's commitment to become carbon neutral and electrifying its range because that will be required by future regulations, but he also questioned whether those regulations were actually the best way to truly reduce emissions.
He pledged that Stellantis will not cut any jobs or close any plants as a result of the merger but made clear the future of its plants will be contingent on the ability to make a business case from them – particularly in the fast-changing regulations from various governments. That was most fiercely expressed when he was asked about Vauxhall's Ellesmere Port plant, when he railed against the UK government's 2030 non-zero-emission ban for "brutally" changing the rules and essentially called on it to offer incentives to Stellantis to commit to eventually producing EVs at the site.
It was a strong performance from Tavares: bold and outspoken, both cheerleading and challenging, and reassuring yet combative. It suggested a deep understanding of the many challenges ahead, and that he has a plan to face them.
In many ways, Tavares is one of the last of his breed as a 'big beast' car industry boss. Pushing through the merger to create Stellantis was a major challenge. Ensuring it can thrive will be an even bigger one. But on first impressions, it's hard to think of anybody better suited to the job.
READ MORE
Management structure of 14-brand Stellantis company detailed 
Stellantis boss warns 2030 ban could close Vauxhall UK factory